A follower of the Trust (John) is attempting to find the surviving members of the D-Day platoon of Lt. Jack Lauder A Company, 1st Battalion. Hampshire Regiment. His late father, Jonah Drake Farrar, and his younger brother Arthur served with the platoon. They are reaching out to find surviving members or their respective family members so that they may make a pilgrimage to Normandy in 2024 on the 80th Anniversary of the D-Day landings. The photo below is of the Platoon.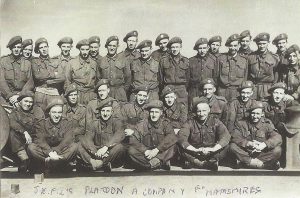 Sadly Arthur was killed by mortar fire shortly after he landed on the beach and is buried in the Bayeux Military Cemetery (see below photo).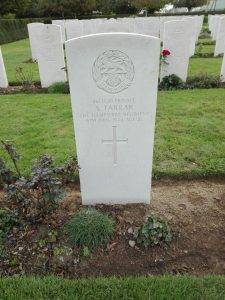 If you want to get in touch with John because you have a connection to this platoon then email info@spiritofnormandy.org.uk so we can put you in touch.
Below are three letters that his Father wrote to Lt. Lauder which informed him of events post D-Day, as Lt. Lauder was wounded during the assault and took no further part in the invasion.
Letter to Jack Lauder dated 3 October 1944 (1)
Letter to Jack Lauder dated 13 October 1944